For Vitex, the concept of Corporate Responsibility is an integral part of our corporate culture, as well as a key driver for achieving its business goals.  The CSR Policy is aligned with the Company's values: Excellence, Honesty, Transparency and Responsibility.
The Policy is determined by the Company Management, which commits to:
providing an inclusive working environment, providing equal opportunities and respect for Human Rights.
protecting the health and safety of the Company's employees and all interested parties, i.e. passers-by, visitors, consultants, etc.
strictly complying with the legislation in force and fully implementing standards, policies and relevant internal procedures which are applicable for the development and supply of products to consistently high standards of quality and safety.
continuously improving its environmental performance through responsible actions and preventive measures.
collaborating with and supporting local communities in a mutual approach of transparency and trust.
communicating openly, in a manner which is two-way, with its social partners in order to identify and record their needs and aspirations.
consistently striving to create added value for our stakeholders.
Vitex is assessed in annual basis and certified according to ETHOS, the Greek Corporate Social Responsibility Evaluation standard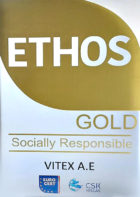 Vitex is the first Greek paint company that has voluntary published a Sustainability Report
You can download and read our recent Report
For your remarks and comments click here
Vitex does business responsibly and supports the communities in which it operates, ensuring  that it increases its positive impact and contributes towards creating substantial value for them.
The PAINT BANK initiative aims to be a pillar of collective and collaborative Social Responsibility of the ecosystem that we represent, as well as of private entrepreneurship in general. For more information please visit trapezachromatos.gr 
At Vitex we nurture environmental responsibility as an integral part of our corporate philosophy, recognising the importance of protecting the environment, as well as the challenges resulting from climate change.
Our strategic priority is the effective management of issues related to the environmental impact of our operations, as we seek to operate with sensitivity and responsibility towards the natural environment.
We act responsibly and place our human resources at the centre our activities,
supporting them of throughout their career and growth.
The central pillars of our culture and long-standing strategy are merit-based attraction of employees, continuing education and development, merit-based evaluation, provision of pay and benefits above the market average, maintaining and trengthening labour relations, open and seamless communication, as well as protecting the health, safety and well-being of our people.
We acknowledge our people's  contribution, we strive to provide suitable working conditions, and we take steps to ensure an environment of equal opportunities and continuous growth, with emphasis on the protection of human rights.