VITEX is awarded with the leading Marketing Award in Greece - Grand Marketing Excellence Award
Vitex is the Grand Award winner at the MEA-Marketing Excellence Awards of 2019 https://mea-eim.gr/ for the Marketing strategy of the Vitex with Teflon™ launch and the Gold winner in the "Building Powerful Brands" category for the same product at the biggest and most respected institution of the Greek Marketing Community.
MEA-Marketing Excellence Awards are provided to companies with the most integrated - Marketing strategies that have proved their high efficiency and achievement of brand building, marketing and commercial results.
Vitex with Teflon™ "made it clear" that even huge marketing competition among the leading 56 Multinational and Greek companies, in many cases supported by multi - million euro budgets can be "wipe-cleaned" !
MEA-Marketing Excellence Awards are organised by EIM-The Hellenic Institute of Marketing of HMA-The Hellenic Management Association in cooperation with the leading Industry Associations in Greece such as SEV (Federation of Greek Industries, EDEE (Greek Advertising Agencies association), SEDEA (Greek research agencies association), ELAM (Greek Marketig Academy) and is supported by direction.
Watch the related TV spot of the awarded Marketing campaign
Watch the Award ceremony video:
Mr Armodios Yannidis, CEO of Vitex received the Grand – "Being best of the best" award.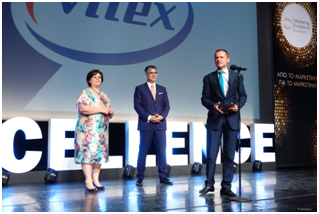 Mr Nestos Sarafoglou , Marketing Director of Vitex received the Gold - "Building Powerful Brands" award.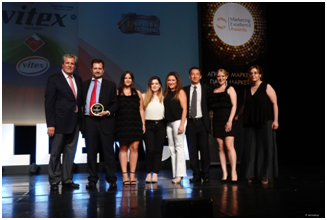 VITEX
Established in 1932, Vitex is the largest Greek owned company of architectural paints. Despite the economic recession Vitex continues to invest, by developing and producing high quality products for the sectors of architectural paints (Vitex), bituminous waterproofing materials (Hermes), external thermal insulation (VitexTherm) and yacht paints (Eumaria), at the largest paint factory in Greece, one of the most advanced in Europe (with an investment exceeding €30m). Vitex products are distributed in 20 countries worldwide. www.vitex.gr