Children's rooms first!
Security, spacious areas and colors are the main characteristics that a children's room should have, so that your child can play comfortably, without fear and be inspired by the surrounding space. Careful study and special attention should be paid in designing children's rooms.

Beginning from the first months of their life, children should be able to get in contact
with as many colors as possible, both in order to get to know them and recognize them, as well as for us to provide them with more stimuli that will draw their attention to their own space. The color nuances on the walls of a baby's room positively affect the psychological state of the baby, as well as ours.

The security in children's room should be taken for granted, that is why it is absolutely necessary to use high quality, odourless and ecological paints, free of harmful substances. At the same time, the utilization of paints that are highly resistant to the everyday use by the children and to frequent washing is also necessary, as this is required both for security purposes, as well as for cost saving.
Vitex, based on children and their needs, has created high quality products that are certified for not containing harmful and hazardous substances. They are products of great durability, environmental friendly, ecological - a wide range of Vitex product range was awarded the ecolabel, the European Union certificate for ecological products - with a great range of colours.
And there is more to it! We select and recommend to you the best solutions in order to create the ideal world for your children that will reflect their personality and activate their imagination. We cooperate with Imaginary Rooms.
A few words about Imaginary Rooms
"Imaginary Rooms" is a successful combination of architecture, street art and comics with the limitless imagination and the sincere naivety of childhood. The goal is to create unique children's bedrooms with designs based on the owner's psyche.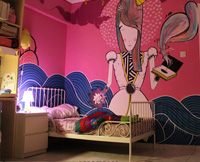 A necessary step in the process, prior to designing the room, is to interview the family, having as a protagonist the child, the super hero who lives in the room – the child's world.
Activating children's imagination and further developing their existing ideas and skills are very important elements in this process. Illustrating children's favourite songs, composing melodies and incorporating them into the wall painting by the mother herself (a symbol of her affection to her child), adapting and changing the size scale of children's paintings, imprinting the figures of the children themselves, the room's residents, as protagonists on their own wall, with a sense of humour and self-criticism (indeed, often to our surprise, children criticise themselves), constitute some of the concepts of past projects.
It takes about three days for the art work to be completed. It needs to be noted that the paints used are only ecological plastic water-based paints by Vitex. These paints are specially made for children; they have been checked and are harmless for kids.

You can enter the wonderful world of Imaginary Rooms by visiting their website www.imaginaryrooms.com